Cherryland Middle School

707 E. Third Street

Elk Rapids

,
MI
49629

P:
231-264-8991

F:
231-264-9370

Principal: Josh Haggerty
Secretaries: Cheryll Wynkoop, Renee Bradberry
iPad Information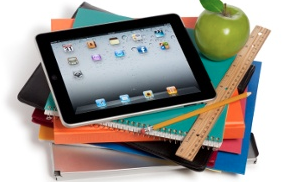 We want the iPad to be a positive aspect in our students' learning.
On this page, we have tips on managing the iPad that will keep our children healthy and safe, and aid in educational success.
2020-21 iPad Handbook, Technology AUP & Mobile Computing Discipline Plan

2020-21 iPad Handbook, Techology Acceptable Use Policy and Mobile Computing Discipline Plan
Mobile Computing Discipline Plan

Personal Mobile Computing Discipline Plan
iPad tips for success
Pick a charging station at home to charge the iPad every night.
Set alarms, reminders and calendar alerts to help with homework deadlines and schedules.
Create music playlists and customize your stations on iTunes radio, Pandora or Spotify at home.
Organize your Google Drive with folders for each class!
Take pictures that help with your studies. (Remember that you always need permission to use your camera in school!)
Tips for managing the iPad at home
Set guidelines and expectations

Ex: iPad is always used in living room
Ex: iPad is never in bedroom at night
Ex: iPad may be used for a maximum of ___ hours a day while at home

Check your child's email, safari history, and YouTube history often
iPad restrictions for misuse
To prevent misuse of the iPad, students are only capable of downloading school approved apps, and the internet is managed through district wide filter. However, at times, students find ways to misuse their iPad. If a student is misusing their iPad during the school day or at home, we can implement additional restrictions. Restrictions can be as simple as blocking a specific website, but can be as extreme as blocking all websites except ones approved by each individual classroom.
If a parent is concerned at all about the iPad use of their child, please contact us to further discuss the best plan for success.
Apple Classroom
A tool used to manage the iPad while at school. At times in which students are working on their iPad in class, teachers can view every student's iPad screen!
Learn more in the video below: