Elk Rapids High School

308 Meguzee Point Rd

Elk Rapids

,
MI
49629

P:
231-264-8108

F:
231-264-0895

Principal: Vacant
Secretaries: Lacey Straight
Attendance: 231-264-8108 x3119
Virtual Option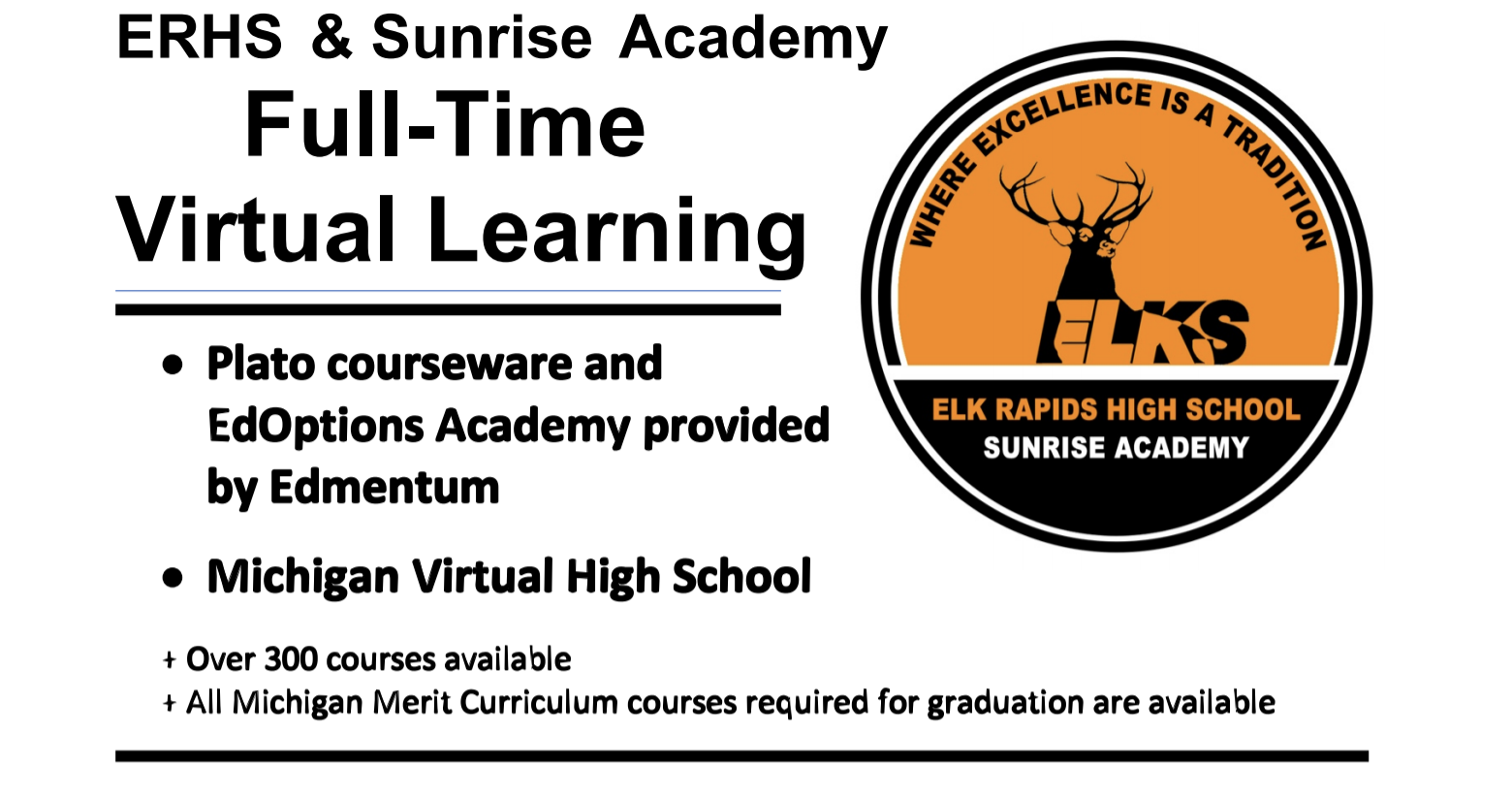 100% Virtual Academy Learning Highlights (Grades 9-12)
Learning Platform Is Edmentum
Used By ERHS & Sunrise Academy For 7 Years
Core Courses Aligned to the Michigan Merit Curriculum
Math & English Courses Aligned to the Common Core State Standards (CCSS)
Science Courses Aligned to the Next Generation Science Standards (NGSS)
Advanced Placement (AP) Courses Aligned to the College Board Curriculum
Students Can Select 6 Classes Per Semester
District Will Provide A Device For Student Learning
District Will Assist With Internet Connectivity If Feasible
Everything Is Digital, Fully Remote Learning
Minimum Commitment Is One Semester
Virtual Students are Provided a Mentor To Help Troubleshoot and Help With Basic Communication
The Provided Mentor is a State Certified Secondary Teacher
Students Must Take State Assessments In Person at ERHS.
Michigan Virtual University for Specialty Courses
Virtual Program Informational Resources

Edmentum Learning Platform Video Resources
Dear Parents,
Thank you to those that were able to attend the Virtual Option Q&A meeting yesterday. We had over 40 in attendance and had some great questions and we are likely to have more questions moving forward. Some of the questions revolved around the difference between Edmentum Courseware (which is our stock platform that enables us to offer 200+ courses including many Advanced Placement courses) and Michigan Virtual University courses. The district has an Edmentum site license for up to 500 students at a set price for 200+ courses whereas MVU courses must be purchased ala carte and cost between $310-$399 per course. Here are some key points to take into consideration when making a decision regarding which platform to use:
1. The courses for both platforms are provided in an "asynchronous learning" environment. Asynchronous learning occurs online without real-time interaction between the learner and the instructor or other learners. "Synchronous" learning is online or distance education that happens in real time where the students can interact with their instructor and other learners in real-time. With the exception of some world language courses, MVU does NOT provide for real-time interaction nor does Edmentum. With both platforms, students learn through a series of pre-recorded lecture videos, slideshows, interactive practice modules, and interactive assessments. Neither platform provides an online "real-time" and "in person" instructor.
2. Both Edmentum and MVU courses will have an assigned "Teacher of Record" (TOR) which is available for our students to ask questions and get assistance. For Edmentum courses the TOR is Ms. Leassner and she is readily available and very responsive. For those students that take MVU courses there will be a TOR assigned by the company and who is considered the support person for students in those courses.
3. Enrollment Dates & Drop Dates for Edmentum and MVU courses should be carefully considered. For Edmentum and MVU courses we will be enrolling students between now and September 4th (August 28th for MVU AP courses). If students and parents decide that virtual learning is not working for them, they must inform me ([email protected]) in writing by Friday, September 11th and at that point we can still enroll students in Face-to-Face classes at ERHS and there will be no failing grades recorded on the student transcript. The district pays a considerable fee for individual MVU courses, so for students that enroll in and drop an MVU course AFTER the "Drop for Refund" deadline of 9/29 (9/22 for MVU AP courses) the student (parents) may be asked to reimburse the district the cost of that course ($310-$399) and it will be recorded as an "E" on the student transcript. There is no reimbursement fee requested for dropped Edmentum courses, however if they are dropped after September 11th they may be recorded as an "E" on the student transcript.
4. Completion Dates & Course Extensions: For Semester 1, both Edmentum and MVU courses MUST be completed by Friday, January 22nd, 2021 (January 15th for MVU AP courses). If students need an extension of a week or two to complete an Edmentum course, we have the ability to grant this fairly easily because we control the Edmentum platform. If a student needs an extension for an MVU course there is an extensive application process and from past experience, we can tell you that extensions are very difficult to get and are rarely approved. New virtual learners often find themselves struggling to finish on time and pushing up against the course completion deadlines for both Edmentum and MVU courses. If a student is not granted an extension and does not complete an MVU course by the MVU established deadline they will earn an "E" which will be recorded on the transcript. Additionally, failing an online course may have bearing on the ability to take future online courses, especially in the same subject area.
So, after 11 years of experience with online/virtual learners it is my advice that if you are not a very strong student and/or a student that has successful experience in taking online courses, I would err on the side of caution and take as much coursework as possible through our Edmentum offerings. In my opinion, for an inexperienced online learner carrying a full load of classes there are too many risks in taking a bevy of MVU courses. I would reserve MVU courses for specialty world language courses, AP courses not offered through Edmentum, and any other specialty course that we can't offer through Edmentum. These are good preview videos of Edmentum and MVU for parents and students.
Edmentum Course Grading Information
I hope this helps you in making some decisions regarding the best platform with which to start your virtual learning journey.
Sincerely,
MJT