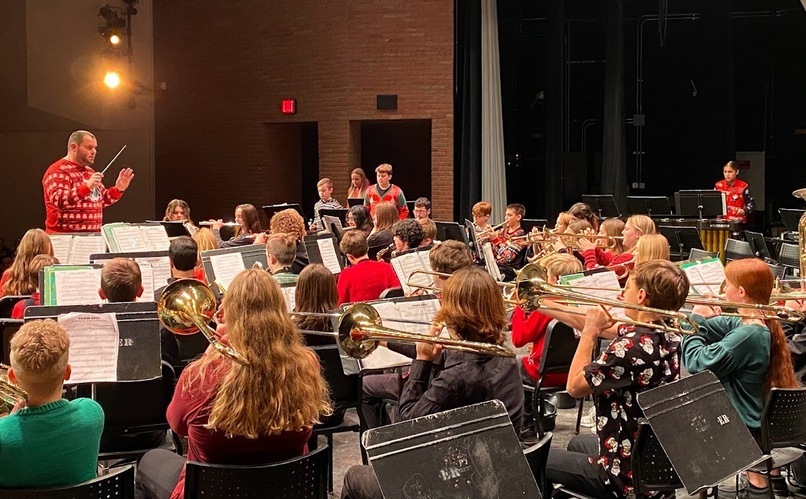 Welcome To

Elk Rapids Schools

Small Schools In a Caring Community,
Delivering a World of Opportunities
Early childhood programs
Middle school through high school foreign language program
Community Service Projects at CMS
Honors Academy at ERHS
Online courses & Alternative learning
Over 30 athletic teams
Award-winning instrumental, vocal and visual arts programs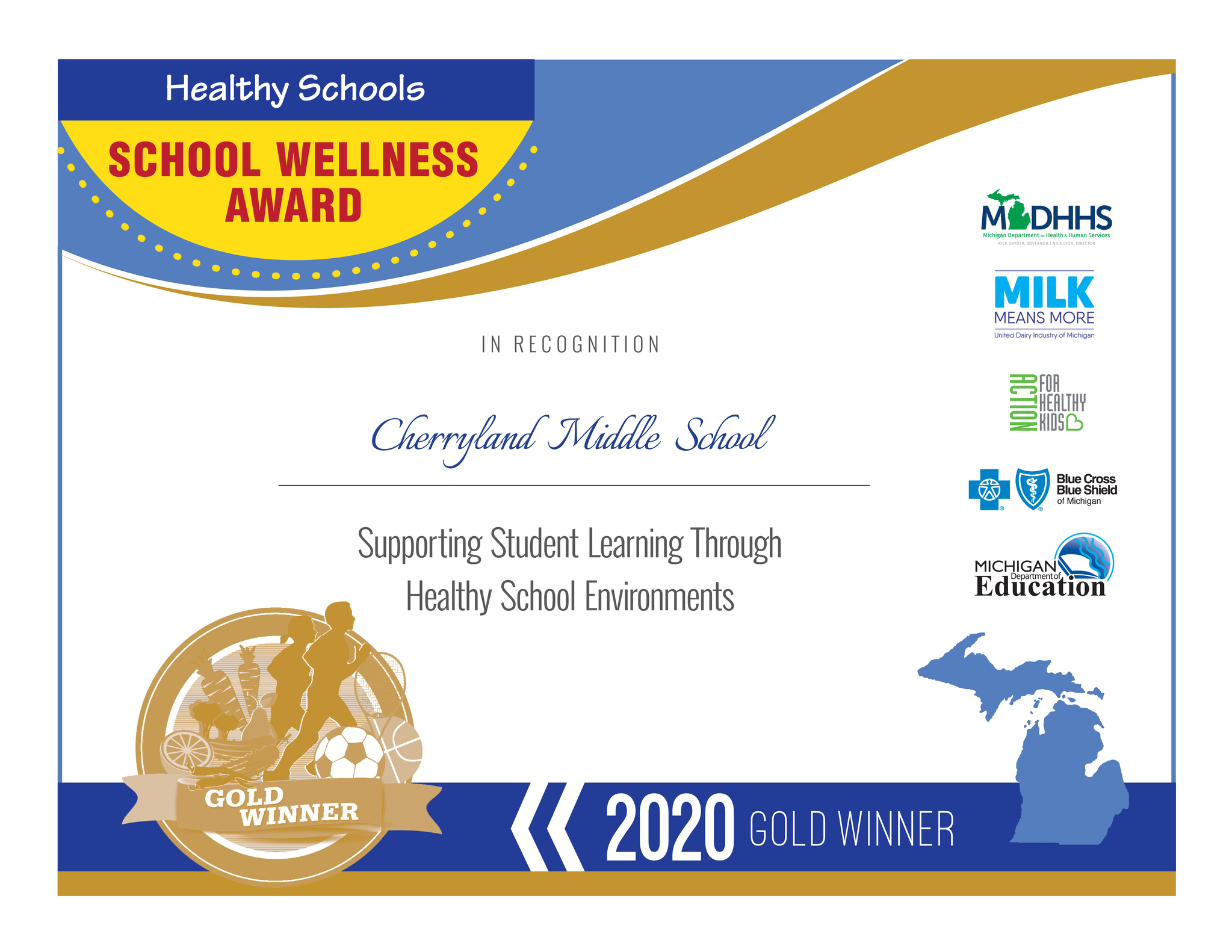 Cherryland Middle School wins State Gold
Congratulations to Cherryland Middle School. It is a shining example of what it takes to build healthy school environments! The Michigan Department of Health and Human Services in collaboration with the Michigan Department of Education, United Dairy Industry of Michigan, Blue Cross Blue Shield of Michigan and Action for Healthy Kids wishes to congratulate you, your team and your students on your MICHIGAN SCHOOL WELLNESS GOLD AWARD!
Positivity Project @ CMS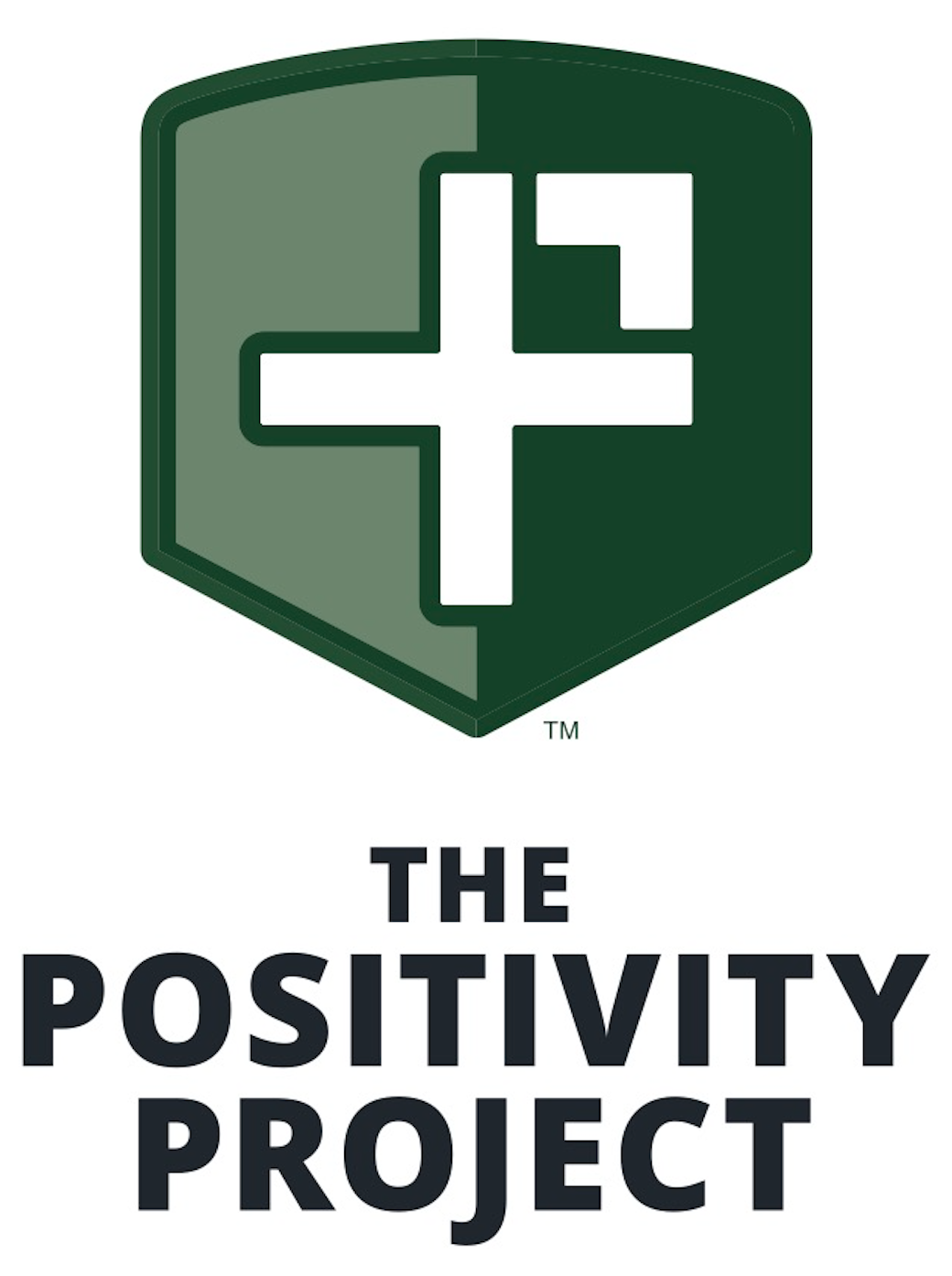 Cherryland Middle School became the first school in Northern Michigan to partner with the Positivity Project. As part of our whole-child approach to education, our students engage in daily learning about their character strengths and the importance of building relationships. Learn more at PosProject.org
Elementary Points of Pride!
Before and after school child care
Transitional kindergarten offerings
Birth to age 5 childcare and preschool offerings
Early Childhood Special Education Program
Updated language arts, mathematics and social-emotional curriculums
Robotics offerings 2nd-5th grade
Senior, Tyler Ketz, Takes Bronze
Elk Rapids High School Senior, Tyler Ketz, Takes The Bronze In CRC SkillsUSA State Competition
Tyler plays "Brian" in a short film he and team mate produce as TBAISD Career-Tech Center Students Win Trifecta in State-Level Digital Cinema Production Competition.

TBAISD SkillsUSA State Competition Press Release

View Tyler's Video Here
In Person Graduation To Be Held On Glowicki Field
We are excited to share that we will be able to hold a restricted attendance commencement at Glowicki Field on Saturday, June 20th at 11:00am. In the event of very bad weather the reserved rain date is Sunday, June 21st at the same time. A more detailed letter will be sent later this week or early next week with more information. Mandatory graduation rehearsal for seniors will be held on Glowicki Field at 11:00am on Thursday, June 18th.
Each graduate will be given 4 tickets (seats) for their family at Graduation Rehearsal on Thursday, June 18th. Each graduate is allowed a maximum of 4 guests. If you/your senior can not attend graduation rehearsal due to work obligations, please make arrangements in advance with one of the class advisers (Lacey Straight lstraight@erschools.com or Kelli Poutanen kpoutanen@erschools.com) to pick up your tickets.
We are very pleased to be able to host a somewhat traditional graduation ceremony that allows closure and most importantly, an opportunity for the Class of 2020 to get together one more time!
Meals Continue to be available through June 30!
Elk Rapids Schools' Food Service program with the help of staff and volunteers is continuing its efforts to provide meals to families with children 18 years of age an under...whether in district students or not.

Details available here.
US News & World Report 2020 Best High School Rankings
We are very pleased to announce that Elk Rapids High School continues to thrive, improve and elevate student excellence in education. One measure of our success is evidenced in the annual US News & World Report high school rankings published each spring.
In the 2020 state rankings, ERHS is ranked #22 out of 1147 Michigan high schools. This equates to the Top 2% of high schools in Michigan. Previously our highest state ranking was #48. ERHS is the highest ranked high school in northern lower Michigan and only 1 of 3 from our area to make the Top 50 (TC Central #38 & Roscommon #50).
In the 2020 national rankings, ERHS is ranked #844 out of 17,245 high schools in the USA. This equates to the Top 5% of high schools in the nation. Previously our highest national ranking was #1286.
In these trying times, it continues to be very important to share news of successes and positivity. Our district should be very proud of the efforts of our students, staff, parents and community as we continue to raise the bar of educational excellence in northern Michigan.
Exciting news!
Elk Rapids Schools' graduating Senior and Class of 2020 Valedictorian, Garrison Waugh, has signed his letter of commitment to join the Men's Rowing Team for the University of Wisconsin – Madison.
Garrison began rowing last spring with the Lake Leelanau Rowing Club, where he has been coached by Viktor Grebennykov and Andrew Hankins. Grebennykov was a member of the Ukrainian National Team and participated in World Cup and Olympic rowing events. Last season with LLRC Garrison teamed up with Micah Hagedorn and they had great success as a pair, earning a bronze medal at the second largest regatta in the country - Head of the Hooch.
The University of Wisconsin – Madison Men's program has a strong history of success, winning national championships, and is the only Men's Varsity Rowing Program in the Big Ten. Signing on with UW – Madison is quite an accomplishment. Garrison is currently working on his training program and hoping he can get on the water at Lake Leelanau with his LLRC teammates sometime soon!
Elk Rapids Schools is proud to have been a part of Garrison's growth and successes. We congratulate him as our Class of 2020 Valedictorian and wish him well on his pursuits at University of Wisconsin – Madison. From an Elk to a Badger and representing northern Michigan very well!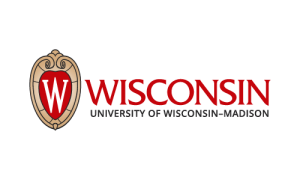 Summer School Registration Available Here
We are now accepting enrollment forms for 2020 ERHS Summer School courses
Below is information about the offerings, cost, dates, and deadlines. A Google Form for registration is attached. Please sign your student up if they failed ANY required course this year or are behind schedule in total credits earned toward graduation. This is especially important if they have failed a Math, English, Science, or Social Studies course. It is very difficult for students to graduate with their cohort class if they do not make up credits in the summer for required classes they fail. Students may sign up for online Summer School classes if they want to earn elective credit toward graduation, improve their grade point average, and/or need to build skills for a required course in the future.
Note: Incoming Freshmen (Class of 2024) are welcome to take Health or Earth Science.
Cost & Credits: Students can earn a .05 (1/2) credit for their summer school class. The enrollment fee is $150 per course, payable to ERHS. The enrollment fee is not intended to be a barrier to admission. Summer School courses are free to students that receive free or reduced lunch. If finances are a concern, please contact Victoria Willson.
Course Offerings: Online PLATO courses begin Tuesday, June 16 and end Thursday, July 30. Classes will not be held June 29 - July 3 for the holiday week. Students taking a course are required to work online from home 3 days per week, 3 hours each day. The days are Tuesday, Wednesday, and Thursday from 8:30 - 11:30. Students are also required to attend virtual meetings with their teacher. Students are expected to work on coursework outside of official meeting times in order to complete coursework. All work must be completed by July 30.
Attendance: Students are expected to be online working on their coursework for ALL class meetings days/times and complete all assignments. Absence of more than 2 sessions for any reason may result in dismissal from Summer School and loss of credit.
If you are interested in enrolling your student in the ERHS Summer School program, complete the enrollment Google Form and send in your payment by Friday, June 5th.
If you need further information, please feel free to email vwillson@erschools.com

Register Here
District Quick Facts

90%
Student participation in extracurricular activities

#1
Rank in the region for percentage of graduates enrolled in a two or four-year college or university

1:1 Device
iPads or Chromebooks for all students, K-12

#22
ERHS Rank in the State out of 1147 Michigan High Schools