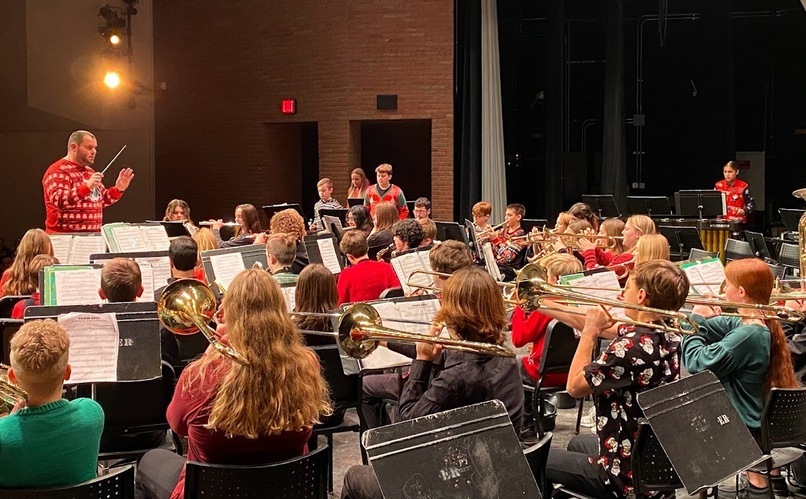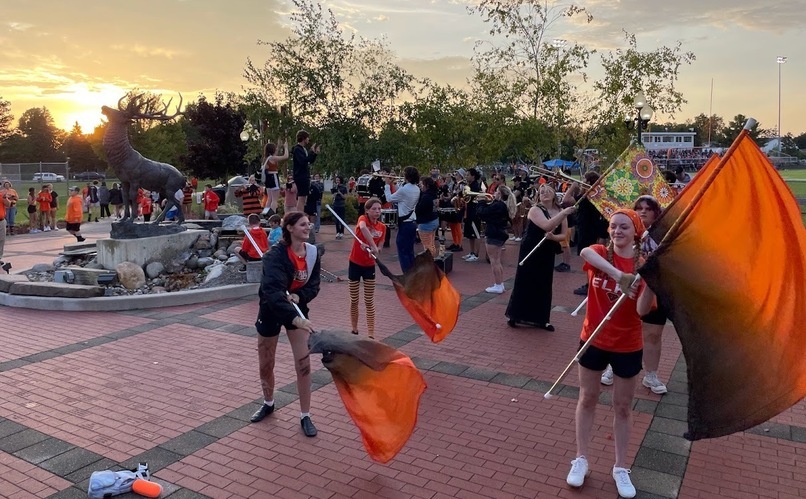 Welcome To

Elk Rapids Schools

Small Schools In a Caring Community,
Delivering a World of Opportunities
Early childhood programs
Middle school through high school foreign language program
Community Service Projects at CMS
Honors Academy at ERHS
Online courses & Alternative learning
Over 30 athletic teams
Award-winning instrumental, vocal and visual arts programs
District Calendar

NO SCHOOL - Thanksgiving Holiday

Calendar:

District Calendar
Calendar

‹

November

2019

›

S
M
T
W
T
F
S
1
2
3
4

Nov 4

1/2 Day of School

Calendar:

Cherryland MS Calendar (Google)

Half Day for Students

Calendar:

Lakeland All School Events Calendar

Half Day of School - AM students PM staff professional development

Calendar:

District Calendar

8:45 AM to 12:10 PM

PD Student 1/2 Day

Calendar:

Mill Creek Events

9:30 AM to 4:00 PM

Book Fair

Calendar:

Mill Creek Events

5

Nov 5

9:30 AM to 4:00 PM

Book Fair

Calendar:

Mill Creek Events

4:00 PM to 7:00 PM

Parent/Teacher Conferences

Calendar:

Mill Creek Events

6

Nov 6

9:30 AM to 4:00 PM

Book Fair

Calendar:

Mill Creek Events

7

Nov 7

9:30 AM to 4:00 PM

Book Fair

Calendar:

Mill Creek Events

9:30 AM to 10:30 AM

Picture Retakes

Calendar:

Mill Creek Events

4:00 PM to 5:00 PM

High School Parent Teacher Conferences

Location:

308 Meguzee Point Rd, Elk Rapids, MI 49629, USA

Calendar:

District Calendar

4:00 PM to 7:00 PM

ERHS Parent-Teacher Conferences

Location:

In Teacher Classrooms

Calendar:

Elk Rapids HS Calendar (Google)

4:00 PM to 7:00 PM

Parent/Teacher Conferences

Calendar:

Mill Creek Events

8

Nov 8

Snow Day #1

Calendar:

Lakeland All School Events Calendar

9
10
11

Nov 11

Spirit Day- Veterans Day

Calendar:

Cherryland MS Calendar (Google)

We will have a Veterans Assembly and we ask that 6th grade wears blue, 7th grade wears red and 8th grade wears white. We will take a picture of the Veterans with the flag colors in the background.

3:00 PM to 4:00 PM

Veteran's Day Assembly

Calendar:

Lakeland All School Events Calendar

4:30 PM to 8:00 PM

CMS Boys' Basketball vs St Elizabeth

Location:

Elk Rapids Cherryland Middle School, 707 E 3rd St, Elk Rapids, MI 49629, USA

Calendar:

Cherryland MS Calendar (Google)

6:00 PM to 7:00 PM

School Board Meeting

Location:

308 Meguzee Point Rd, Elk Rapids, MI 49629, USA

Calendar:

District Calendar

12

Nov 12

11:00 AM to 12:30 PM

Air Force - Lunches

Calendar:

Elk Rapids HS Calendar (Google)

13

Nov 13

4:30 PM to 8:00 PM

CMS Boys' Basketball @ Kalkaska

Location:

Kalkaska High School, 109 N Birch St, Kalkaska, MI 49646, USA

Calendar:

Cherryland MS Calendar (Google)

Bus leaves the school at 3:15 PM.

14

Nov 14

5:00 PM to 6:00 PM

7th Grade Washington DC August 2020 Trip Meeting

Calendar:

Cherryland MS Calendar (Google)

Attention current 7th-grade students and parents: CMS will hold an informational meeting about the August 2020 trip to Washington D.C. We will hold the meeting in the library at 5:00 p.m. on Thursday, November 14th. Information will include a photo slideshow of the 2019 trip, expected costs, trip dates, and a detailed itinerary along with a question and answer period.

15

Nov 15

Spirit Day- Green/White or Maize/Blue

Calendar:

Cherryland MS Calendar (Google)

Wear your colors in support of tomorrows big game!

16
17
18

Nov 18

5:00 PM to 8:30 PM

CMS Boys' Basketball vs Grayling

Location:

Elk Rapids Cherryland Middle School, 707 E 3rd St, Elk Rapids, MI 49629, USA

Calendar:

Cherryland MS Calendar (Google)

19
20

Nov 20

4:15 PM to 5:15 PM

PTO Meeting 4:15

Calendar:

Lakeland All School Events Calendar

5:30 PM to 7:00 PM

Parent Information Night - 3rd Grade Reading Law

Location:

Lakeland Cafeteria

Calendar:

Lakeland All School Events Calendar

Anyone is welcome but specifically intended for Elk Rapids families with first, second, or third grade students. The meeting will start out with information about the 3rd Grade Retention Law and follow up with Title 1 information. Pizza at 5:30 - meeting starts after.

7:00 PM to 9:00 PM

CMS Choir Concert

Location:

Elk Rapids High School, 308 Meguzee Point Rd, Elk Rapids, MI 49629, USA

Calendar:

Cherryland MS Calendar (Google)

21

Nov 21

4:00 PM to 7:00 PM

CMS Parent Teacher Conferences

Calendar:

Cherryland MS Calendar (Google)

22
23
24

Nov 24

Michigan Youth in Government

Calendar:

Cherryland MS Calendar (Google)

25

Nov 25

Michigan Youth in Government

Calendar:

Cherryland MS Calendar (Google)

4:30 PM to 7:30 PM

Parent Teacher Conferences

Calendar:

Lakeland All School Events Calendar

26

Nov 26

Michigan Youth in Government

Calendar:

Cherryland MS Calendar (Google)

End of 1st Trimester

Calendar:

Lakeland All School Events Calendar

4:30 PM to 7:30 PM

Parent Teacher Conferences

Calendar:

Lakeland All School Events Calendar

27

Nov 27

No School: Thanksgiving Break

Calendar:

Lakeland All School Events Calendar

NO SCHOOL - Thanksgiving Holiday

Calendar:

District Calendar

Thanksgiving Break

Calendar:

Mill Creek Events

Thanksgiving Break

Calendar:

Cherryland MS Calendar (Google)

28

Nov 28

NO SCHOOL - Thanksgiving Holiday

Calendar:

District Calendar

Thanksgiving Break

Calendar:

Mill Creek Events

Thanksgiving Break

Calendar:

Cherryland MS Calendar (Google)

Thanksgiving

Calendar:

Lakeland All School Events Calendar

29

Nov 29

NO SCHOOL - Thanksgiving Holiday

Calendar:

District Calendar

Thanksgiving Break

Calendar:

Mill Creek Events

Thanksgiving Break

Calendar:

Cherryland MS Calendar (Google)

30

Nov 30

Thanksgiving Break

Calendar:

Mill Creek Events

Thanksgiving Break

Calendar:

Cherryland MS Calendar (Google)
Positivity Project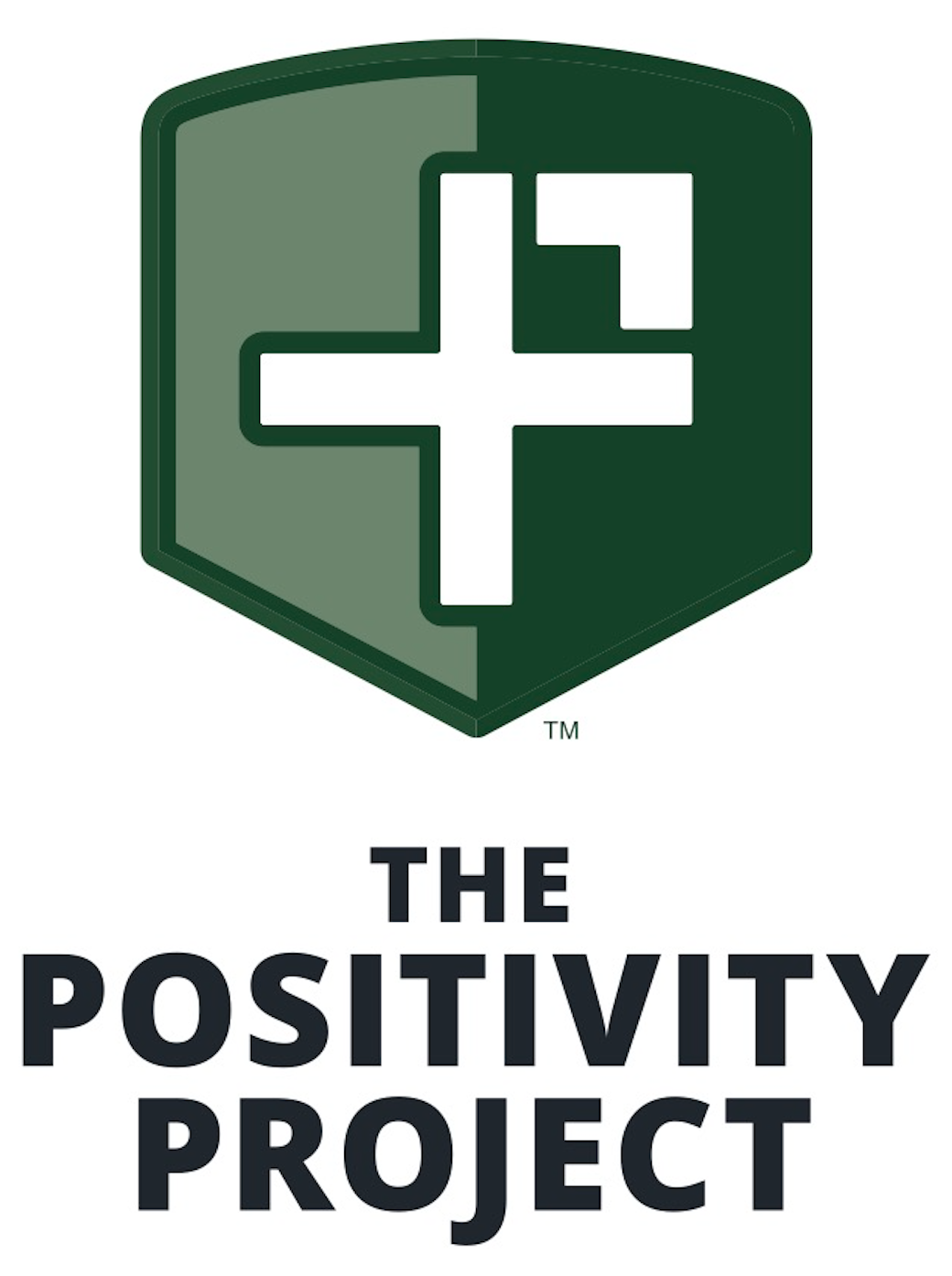 Cherryland Middle School became the first school in Northern Michigan to partner with the Positivity Project. As part of our whole-child approach to education, our students engage in daily learning about their character strengths and the importance of building relationships. Learn more at PosProject.org
Elk Rapids Schools Now Offering Birth to Age 3 Child Care
Housed at Mill Creek Elementary and partnering with Down by the Creek Children's Center, the birth to age 3 child care will be offered Monday - Friday from 7am - 6p @ $55/day or $30/half day! Call 231.267.1630 for information or to enroll.
District News - Archives

Back to News
09/19/2019
Elk Lake Rd. / Williamsburg Road Road Closure 9/19/19
ELK LAKE ROAD/WILLIAMSBURG ROADS AT M-72
BEGINNING SEPTEMBER 19, 2019
09/17/2019
District proposes $40 million bond to upgrade schools
Elk Rapids Schools is proposing a bond to upgrade our schools. Please view the 7&4 News link for more information.
September 12, 2019
CMS Picture Day is October 2nd!
CMS Picture Day is October 2, 2019! Students will receive their picture packets in school to bring home.
District Quick Facts

90%
Student participation in extracurricular activities

#1
Rank in the region for percentage of graduates enrolled in a two or four-year college or university

1:1 Device
iPads or Chromebooks for all students, K-12