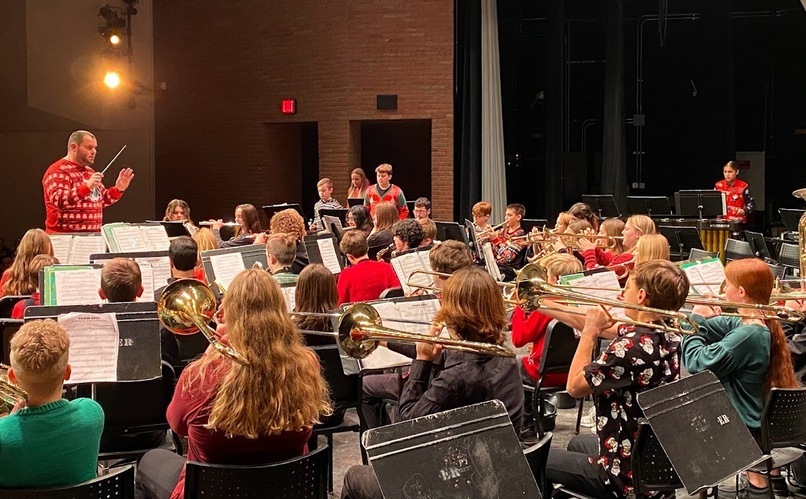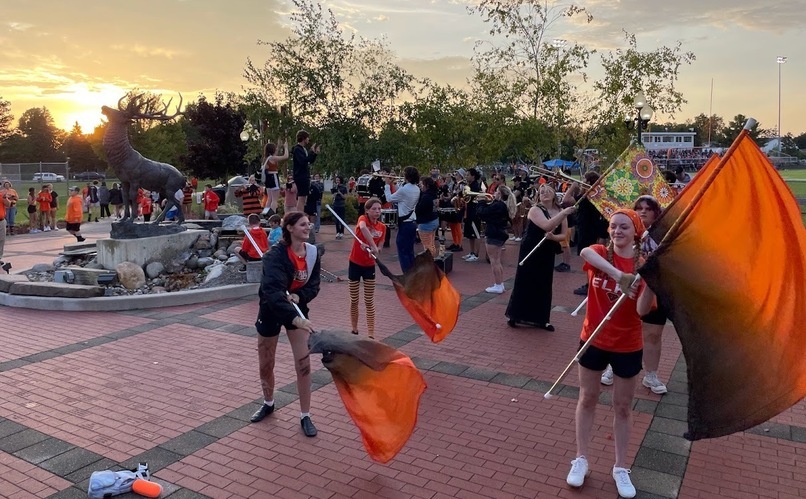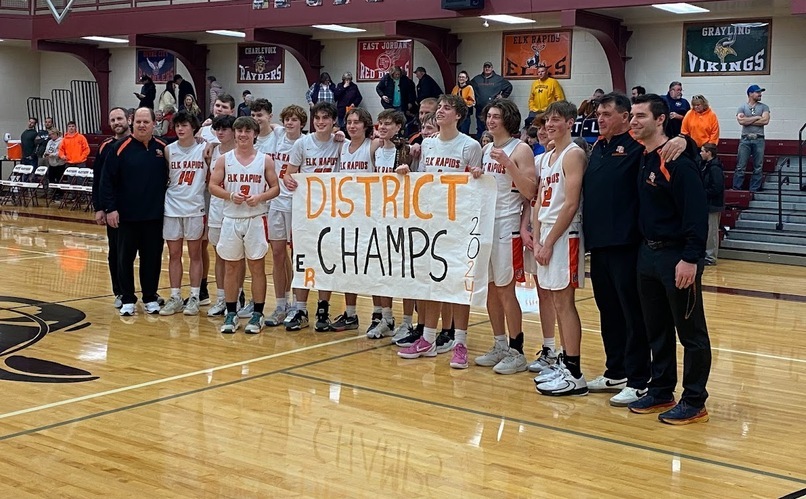 Welcome To

Elk Rapids Schools

Small Schools In a Caring Community,
Delivering a World of Opportunities
Early childhood programs
Middle school through high school foreign language program
Community Service Projects at CMS
Honors Academy at ERHS
Online courses & Alternative learning
Over 30 athletic teams
Award-winning instrumental, vocal and visual arts programs
First Day of CMS Football Practice

Calendar:

Cherryland MS Calendar (Google)

Staff Opening Day & Professional Development

Calendar:

Cherryland MS Calendar (Google)

CMS Parent Cookout & Open House

Location:

Elk Rapids Cherryland Middle School, 707 E 3rd St, Elk Rapids, MI 49629, USA

Calendar:

Cherryland MS Calendar (Google)

Enjoy a cook out and meet the staff!

Staff Professional Development

Calendar:

Cherryland MS Calendar (Google)

MC Open House

Calendar:

Mill Creek Events

First Day of CMS Volleyball Practice

Calendar:

Cherryland MS Calendar (Google)

First Day of School

Calendar:

Mill Creek Events
Calendar

‹

August

2019

›

S
M
T
W
T
F
S
1
2
3
4
5
6
7
8
9
10
11

Aug 11

DC Trip--8th Grade

Calendar:

Cherryland MS Calendar (Google)

12

Aug 12

DC Trip--8th Grade

Calendar:

Cherryland MS Calendar (Google)

13

Aug 13

DC Trip--8th Grade

Calendar:

Cherryland MS Calendar (Google)

14

Aug 14

DC Trip--8th Grade

Calendar:

Cherryland MS Calendar (Google)

15

Aug 15

DC Trip--8th Grade

Calendar:

Cherryland MS Calendar (Google)

16

Aug 16

DC Trip--8th Grade

Calendar:

Cherryland MS Calendar (Google)

17
18
19
20
21
22
23
24
25
26

Aug 26

First Day of CMS Football Practice

Calendar:

Cherryland MS Calendar (Google)

27

Aug 27

Staff Opening Day & Professional Development

Calendar:

Cherryland MS Calendar (Google)

5:00 PM to 8:00 PM

CMS Parent Cookout & Open House

Location:

Elk Rapids Cherryland Middle School, 707 E 3rd St, Elk Rapids, MI 49629, USA

Calendar:

Cherryland MS Calendar (Google)

Enjoy a cook out and meet the staff!

28

Aug 28

Staff Professional Development

Calendar:

Cherryland MS Calendar (Google)

5:00 PM to 6:00 PM

MC Open House

Calendar:

Mill Creek Events

29
30
31
Elk Rapids Schools Now Offering Birth to Age 3 Child Care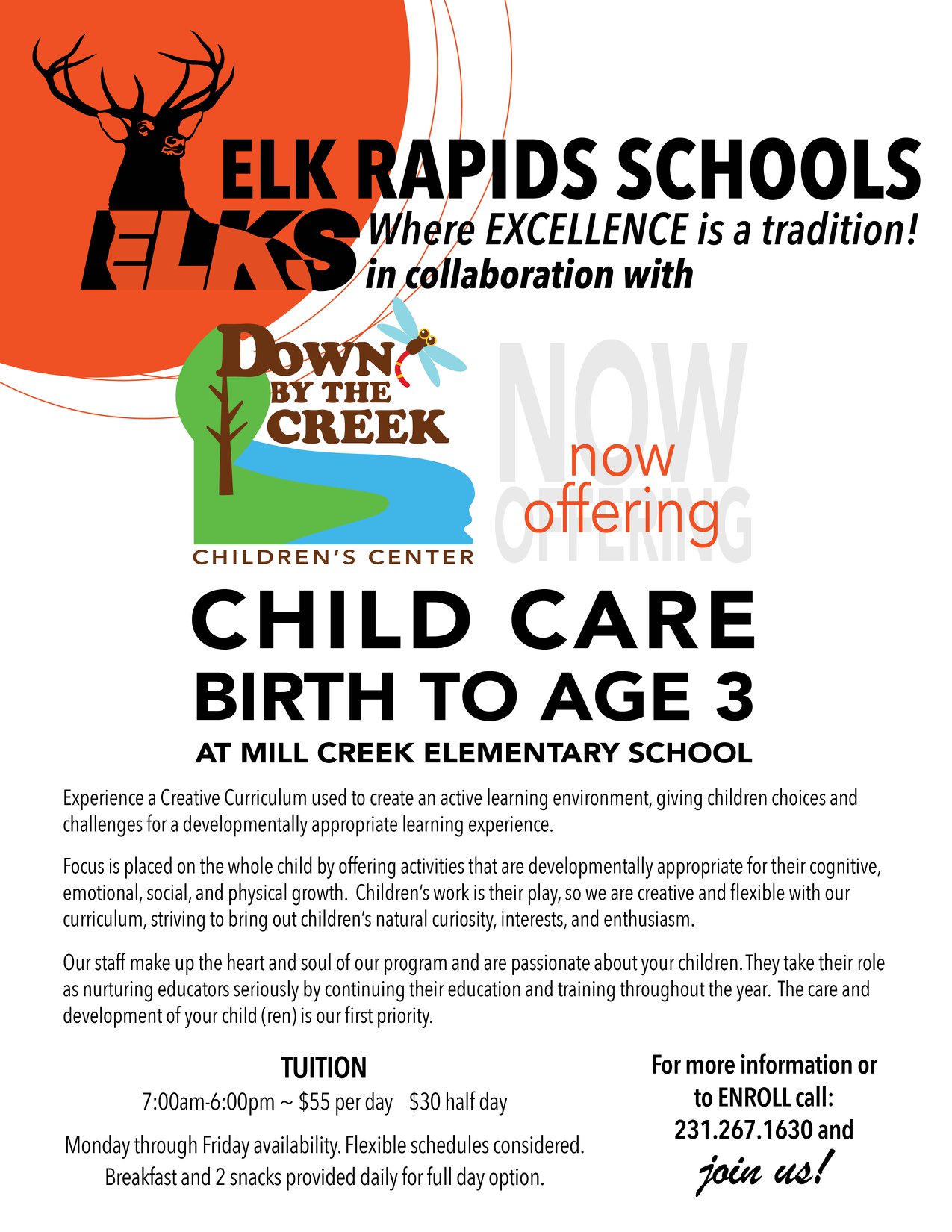 Housed at Mill Creek Elementary and partnering with Down by the Creek Children's Center, the birth to age 3 child care will be offered Monday - Friday from 7am - 6p @ $55/day or $30/half day! Call 231.267.1630 for information or to enroll.
ERHS News

View Archives
June 29, 2019
Full STEAM Ahead: Beyond the Core
Check out what's happening beyond the "core" curriculum at ERHS
CMS News

View Archives
July 31, 2019
CMS Jr Garden Club Beautifies Entrance
Mill Creek News

View Archives
July 17, 2019
Employment Opportunity
Mill Creek is actively seeking candidates for an opening in our Kids Club program. Please see the attached job posting for details.
Lakeland News

View Archives
June 1, 2019
Final Parent Letter
District Quick Facts

90%
Student participation in extracurricular activities

#1
Rank in the region for percentage of graduates enrolled in a two or four-year college or university

1:1 Device
iPads or Chromebooks for all students, K-12